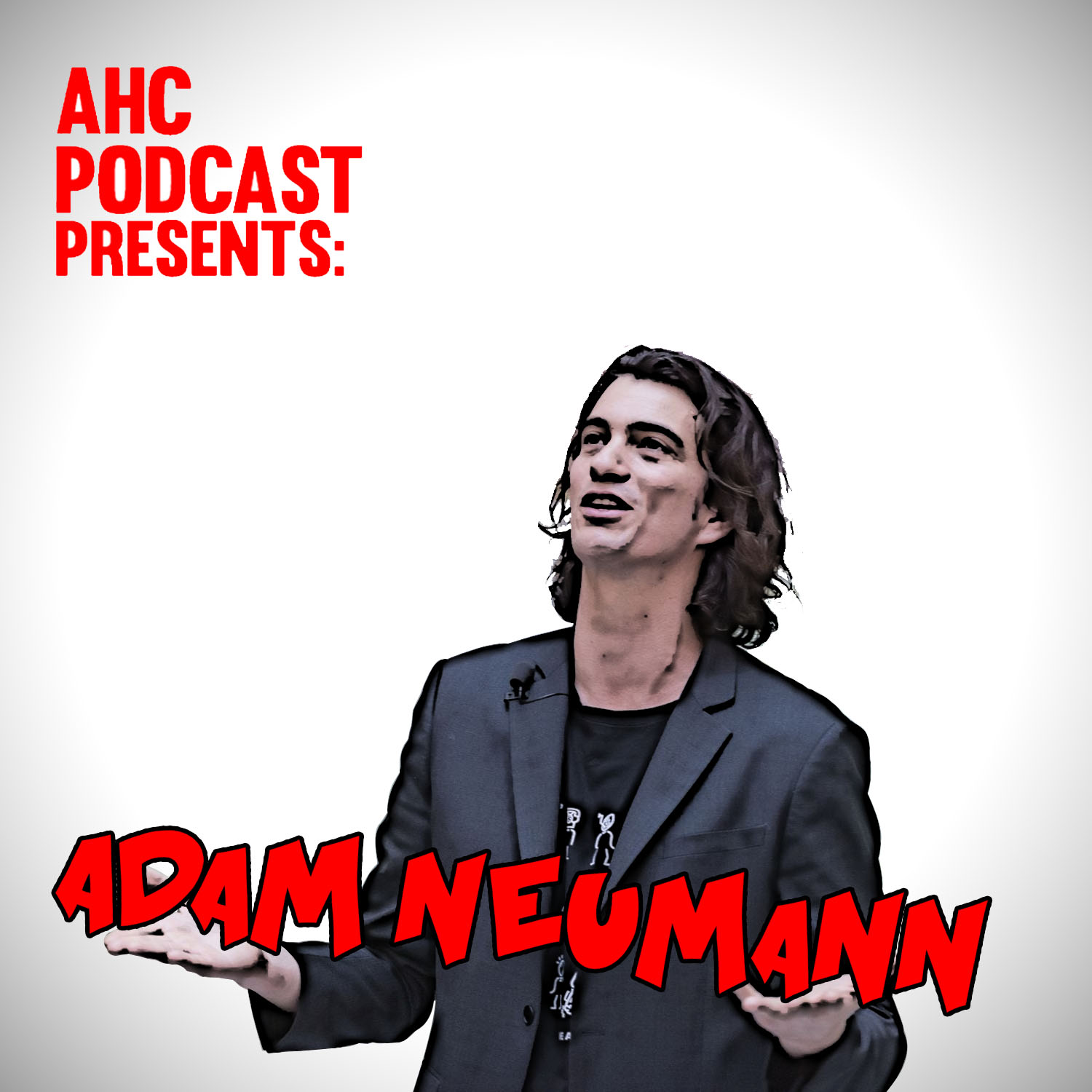 Hello, Neumann…  In this AHC episode, we are going to discuss the rise and fall of WeWork co-founder, Adam Neumann.  Neumann set out to reinvent the workspace for the 21st century, and in the process, raised and then lost a whole bunch of investor money.  But was WeWork his true passion?  Or was it his desire to become the world's first trillionaire? Or just maybe, the first person to live forever?  We'll dive into these questions and a whole lot more in this AHC Podcast.
"Adam Neumann." Wikipedia, Wikimedia Foundation, 1 May 2020, en.wikipedia.org/wiki/Adam_Neumann.
Aydin, Rebecca. "The History of WeWork - from Its First Office in a SoHo Building to Pushing out CEO and Cofounder Adam Neumann." Business Insider, Business Insider, 22 Oct. 2019, www.businessinsider.com/wework-ipo-we-company-history-founder-story-timeline-adam-neumann-2019-8.
Baram, Marcus. "7 Bizarre Things We Just Learned about WeWork's CEO." Fast Company, Fast Company, 18 Sept. 2019, www.fastcompany.com/90406156/wework-ceo-adam-neumann-7-bizarre-things-we-just-learned.
Bertoni, Steven. "WeWork's $20 Billion Office Party: The Crazy Bet That Could Change How The World Does Business." Forbes, Forbes Magazine, 26 Feb. 2018, www.forbes.com/sites/stevenbertoni/2017/10/02/the-way-we-work/#4d86e07c1b18.
Brown, Eliot. "How Adam Neumann's Over-the-Top Style Built WeWork. 'This Is Not the Way Everybody Behaves.'." The Wall Street Journal, Dow Jones & Company, 18 Sept. 2019, www.wsj.com/articles/this-is-not-the-way-everybody-behaves-how-adam-neumanns-over-the-top-style-built-wework-11568823827.
Hanbury, Mary. "'My Superpower Is Change': The Cult of WeWork Was Laid Bare in a Revealing Interview with CEO Adam Neumann." Business Insider, Business Insider, 15 May 2019, www.businessinsider.com/cult-of-wework-laid-bare-in-a-revealing-interview-with-adam-neumann-2019-5.
Jr., Tom Huddleston. "How WeWork's Infamous Co-Founder Adam Neumann Just Lost His Billionaire Status." CNBC, CNBC, 2 Apr. 2020, www.cnbc.com/2020/04/02/softbank-pulls-deal-costing-weworks-adam-neumann-nearly-1-billion.html.
Khan, Roomy. "Adam Neumann Needs To Be Held Accountable. Is There A Case For Minority Shareholders And Employees?" Forbes, Forbes Magazine, 24 Oct. 2019, www.forbes.com/sites/roomykhan/2019/10/22/adam-neumann-needs-to-be-held-accountable-is-there-a-case-for-minority-shareholders-and-employees/#68f1642a549c.
Kosoff, Maya. "How WeWork Became the Most Valuable Startup in New York City." Business Insider, Business Insider, 22 Oct. 2015, www.businessinsider.com/the-founding-story-of-wework-2015-10.
Kulwin, Noah. "The Extremely Bad Vibes of Adam Neumann." The Outline, The Outline, 19 Sept. 2019, theoutline.com/post/7982/adam-neumann-wework-absurd.
Leskin, Paige. "The Career Rise and Fall of Adam Neumann, the Controversial WeWork Cofounder." Business Insider, Business Insider, 2 Apr. 2020, www.businessinsider.com/wework-ceo-adam-neumann-bio-life-career-2019-8.
Lowrey, Annie. "Curse of the Cult of the Founder." The Atlantic, Atlantic Media Company, 25 Sept. 2019, www.theatlantic.com/ideas/archive/2019/09/curse-cult-of-the-founder/598753/.
Molla, Rani. "Why WeWork Founder Adam Neumann Is Getting $1.7 Billion to Leave the Company He Ran into the Ground." Vox, Vox, 22 Oct. 2019, www.vox.com/recode/2019/10/22/20927188/wework-adam-neumann-payout-softbank-layoffs.
Nicolaou, Anna. "WeWork Cultivating 'Physical Social Network'." Financial Times, 17 Mar. 2016, www.ft.com/content/f2e073a2-d0ef-11e5-831d-09f7778e7377.
Noto, Anthony. "WeWork CEO Owns Some Buildings WeWork Leases, Raising Conflict of Interest Concerns." Bizjournals.com, 16 Jan. 2019, www.bizjournals.com/sanjose/news/2019/01/16/wework-ceo-neumann-property-owned-ipo.html.
Wood, Charlie. "WeWork's Ex-CEO Adam Neumann Reportedly Plans to Sue SoftBank for Reneging on Its $3 Billion Share Deal." Business Insider, Business Insider, 21 Apr. 2020, www.businessinsider.com/wework-ex-ceo-adam-neumann-reportedly-plans-softbank-lawsuit-2020-4
Share
|
Download